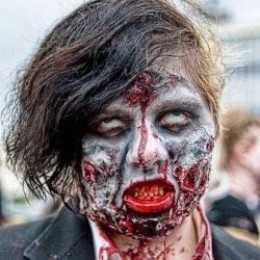 On the first Saturday in October, thousands of zombies stagger down the streets of Asbury Park, New Jersey, in one of the largest "Walks of the Undead".
It's the Zombie Walk: A fun and wacky event for the entire family that raises money for charity. Singles, couples, families, children and groups lurch down the streets in tattered, bloodied costumes to the delight of tens of thousands of spectators. Think Michael Jackson's "Thriller" on a larger scale!
What Is A Zombie?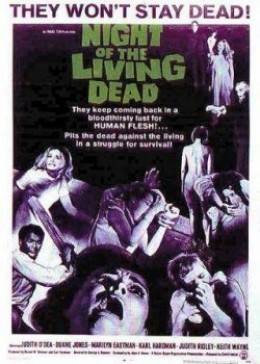 A Zombie is a fictional monster, but more than that, it's a state of being: somewhere between life and death. A zombie is a shell of a person, who staggers around, dragging its legs, walking off-kilter, and looking for other humans to devour. In some ways, a zombie is like a vampire, as it can "turn" a human being into a zombie by biting it.
Zombies normally have bloody clothes, pale skin and blank, staring eyes. Some are silent; others moan and groan, while others have been known to mumble "brains!" Zombies don't move very fast, since their bodies are so fragile. However, they can catch and eat you before you know what's happening!
Many movies have been filmed about zombies, such as "Night of the Living Dead" and "Dawn of the Dead". Zombies have shown up in comic books, tv shows, cartoons, and music. The Center for Disease Control has even written a guide on how to survive a zombie apocalypse!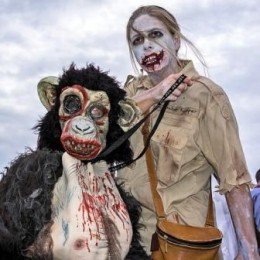 Where is the Zombie Walk?
The Zombie Walk is held in Asbury Park, New Jersey. Asbury Park is a small town of about 16,000 people, located on the Jersey shore, and is known for it's beaches and music venues.
What Is The Zombie Walk?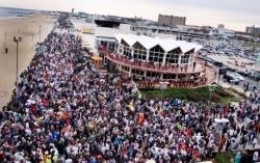 Families, couples, children and pets come from across the country to dress in zombie clothing & makeup, and lurch across the streets of Asbury Park, all in the name of charity.
In 2010, the Guinness Book of World Records documented 4,093 zombies at the Asbury Park Walk, making this Zombie Walk the largest gathering of the Undead. Add another 15,000 attendees who came to watch, and it was the biggest gathering of it's kind. Check out this YouTube video to view all 4093 zombies!
__________________________

Did you know?

World Zombie Day is celebrated
the 2nd Saturday of October!
__________________________
Zombie Walk Event Schedule
To help you prepare for the Asbury Park Zombie Walk, you'll need to know the schedule of events. Keep in mind that it occurs on the 1st Saturday of October each year, and begins at 10:00 am. Get a lot of restful sleep the night before, because this is a big day for zombies!
10:00 am - 4:00 pm

The Bizarre Bazaar - Vendors set up booths, selling everything from zombie food (think "brains") to drinks to arts & crafts

Makeup Artists - Whether you hire an artist (for a nominal fee) or plan to make up yourself, you'll find all the supplies and space you need right here

Zombie Blood Drive and Food Drive - Donate your blood or some canned food. It's all for a good cause!

Thriller Dance Team Performance - A huge team of zombie dancers perform Michael Jackson's "Thriller"
5:00 pm
The Zombie Walk begins! Starting on Asbury Park Boardwalk in full costume, stagger with several thousand of your closest zombie friends & fiends along the streets of Asbury Park.
7:00 - 9:00 pm
Music, costume contests and dancer performances in downtown Asbury Park
9:00 pm ---
Hit the streets and clubs of Asbury Park to participate in great Zombie Walk after-parties. If you've had a bit to drink, no one will take notice of your staggering!
Zombie Walk Videos
To get an idea of what you'll experience at the Zombie Walk in Asbury Park, take a long, hard look at these videos!
2011 Alsbury Park Zombie Walk
Channel 12 News Version of Zombie Walk
Michael Jackson's Thriller perfored at Zombie Walk in 2011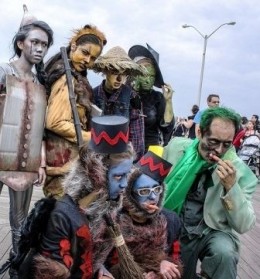 Need More Information?
Zombie Walk
Official website for the Asbury Park Zombie Walk
Asbury Park
Official website for the city of Asbury Park, NJ
Zombie Apocalypse
Center for Disease Control - how to prepare for the Zombie Apocalypse