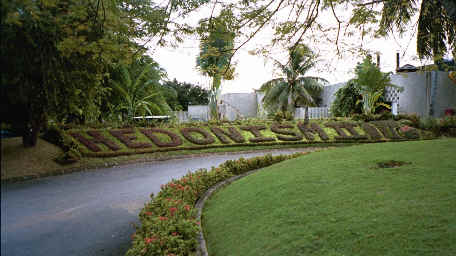 Known as the "Ultimate Party Resort", this all-inclusive resort is for both couples and singles age 18 and above. Guests come from around the world, mainly from the United States and European countries. There are more couples than singles, and three times as many single males than females. The atmosphere is sexually charged, so it's not for those who are easily offended by suggestive behavior.
Guests come to this resort not for the food, rooms or service, as these are, at the most, average for an all-inclusive resort. The main attractions are the nude areas, the beaches, the piano bar, and the nightly theme parties. Some guests visit here 2-4 times each year!
The nude side at Hedonism II offers a beach, pool, hot tub, swim up bar, and snack bar. You must be nude on this part of Hedo, and photographs are not allowed. After midnight, expect to see a fair amount of sexual activity in and around the nude hot tub.
Photo of Hedonism II entrance – copyright Fantastic Voyages
What is Hedonism II?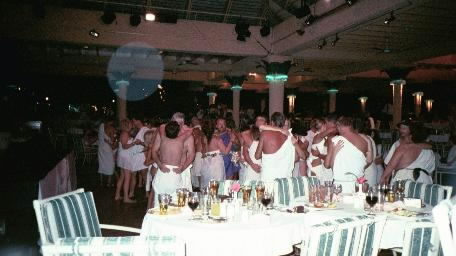 Hedonism II is an all-inclusive resort in Jamaica for adults 18 years of age and older. It's the place your parents warned you about, because just about anything is permitted. During spring break and the summer, you'll encounter a lot of the younger crowd who want to party 24 hours a day. Other times, it's a much older crowd – starting around 40 years old – who are looking to let loose for awhile.
Hedonism II is all about having a good time. You can do as much or as little as you wish. It's about people-watching. It's about enjoying the beach & ocean. It's about theme nights and piano bars, about skinny-dipping and Scuba diving. Just about whatever you want in a vacation, you'll find at Hedonism II in Jamaica.
In case you are wondering: There is not a Hedonism I. Hedonism II is where is all began. At one time there was a Hedonism III, but it has since closed. Hedonism II is the one and only, original, party resort in Jamaica.
Photo of Toga Party at Hedonism II – Copyright Fantastic Voyages
Where is Hedonism II?
Hedonism II is located in Negril, which is on the west side of Jamaica. To get there, you will fly into Montego Bay, which is on the north side of the island. From there, you will take a transfer bus to Negril.
If you'd rather fly into Negril, you can take a small plane, or "puddle jumper". I've done this several times, and it is a great deal of fun! Plus, it is a lot faster. It takes about 15 minutes to fly, versus the hour or so on the transfer bus. TimAir is the company I recommend if you wish to fly into Negril.
What's Included in the Vacation Price?
At Hedo 2, just about everything is included in your vacation. Yes, you'll want to bring along a bit of extra money for souvenirs, spa treatments, and items of a personal nature. Other than that, the following items & activities are included:
Deluxe room accommodations
All meals, snacks, and unlimited premium brand beverages
Land & water sports, with instruction
Daily activities and games
Nightly entertainment & theme parties
All tips, hotel taxes and gratuities
Deluxe Rooms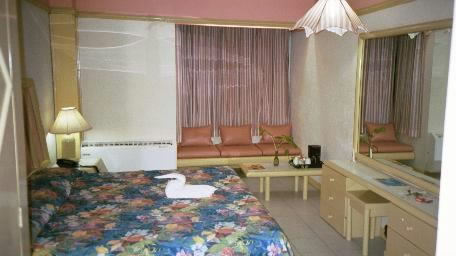 There are 280 bedrooms, all air-conditioned with private bath and shower. All rooms are alike; the difference is the view and location. Rooms have either 2 twin beds or 1 king-size bed; mirror on the ceiling, chest of drawers, closet with hangers & ironing board; safe; window loveseat, and coffee table.
The walls are not soundproofed. It's easy to hear what is going on in the next room; plus, passer-bys can hear sounds from the outside.
Rooms can be booked on a shared basis. This means that a guest traveling alone automatically shares with someone of the same sex. A guaranteed single rate is available.
Room Categories:
Gardenview Prude: Located on the prude side of the resort, just a short walk away from the main dining room, main pool, and Pastafari restaurant. Views of the grounds
Oceanview Prude: Located along the prude beach
Gardenview Nude: These rooms are on the nude side, located close to either the spa/fitness areas or the aviary. You may walk nude from your room to any of the facilities on the nude side
Oceanview Nude: Located directly on the nude beach. While great for short walks to the beach, the noise level can be quite high in the late evenings on the block closest to the pool & Jacuzzi
Dining & Drinks
Dining options include: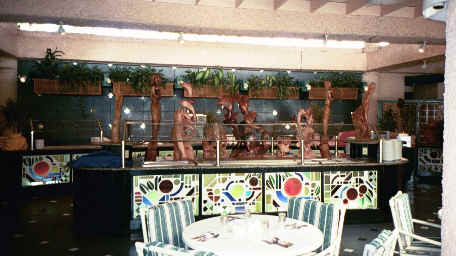 Main Dining Room: Breakfast and lunch are served buffet style in the open air dining area. Breakfast is served from 8:00 am to 10:30 am. Lunch from 12:30 pm to 3:00 pm. Dinner from 7:30 pm to 10:00 pm and Midnight snack from 12:00 am to 1:00 am.
Pastafari Italian Restaurant - 6:30 pm to 1:00 am (reservations can be made at the front desk), or buffet style in the main dining area.
Japanese Restuaurant - located on the edge of the Main Dining Room. Reservations must be made at the front desk
Beach grills - there are 2 beach grills, one located on the main beach and one on the second beach. Both grills are open 11:30 am to 5:00 pm.
Bar Service:
All 6 bars on the property are stocked with premium brand bar drinks. The Pool Bar is open from 10:00 am to 1:00 am; the Beach Bars (one located on the nude beach) are open from 10:00 am to 5:00 pm; the Piano Bar is open from 6:00 pm to 2:00 am; and the Disco Bar is open from 11:00 pm to 5:00 am or until the last guest leaves.
Veronica's Piano Bar offers a classical interlude starting at 6:30 pm. The pianist plays from 9:30 pm to 2:00 am from Wednesday through Sunday. Guests can select songs from the provided song books, or make requests. Be forewarned: This is not your average piano bar! If it's your birthday, you might have to perform a strip tease ontop of the piano!
**Karaoke is offered at 10:00 pm Mondays and Tuesdays in lieu of the piano.
Sports & Activities
(Includes the use of all sports equipment and facilities with instruction.)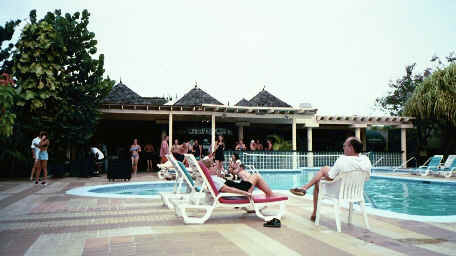 Watersports: The water is clear enough to see the bottom, so snorkeling is great just off of the beach. You'll see schools of fish and starfish. Other water sports include - Sunfish sailing, water-skiing, glass-bottom boat rides, windsurfing school, kayaks, scuba diving. For scuba diving, one has to be certified; if not, a resort scuba course is available.
Landsports: Badminton, shuffleboard, basketball, volleyball, table tennis, bicycles, squash (2 air-conditioned courts), clinics daily. Tournaments on Wednesdays.
Tennis: 6 tennis courts, lit for night play, with resident pros. Clinics twice daily. Tournaments on Tuesday and Thursdays.
Beach/Pools/Jacuzzis: Private beach which is divided into two sections, of which one is for nude bathing with a nude Jacuzzi and pool. In addition, a large freshwater swimming pool with spacious sundeck and Jacuzzi is situated close to the main entertainment area. A waterslide winds down from over the top of the main pool to a plunge pool next to the disco.
Fitness Center: Stationary bicycles, stair climbing machine and a rower along with 11 piece Nautilus equipment and complete weight room with instructor. Aerobic classes 5 times per week.
Nightly Entertainment
If you're not too tired to party the night away, Hedonism II offers nightly entertainment. Each evening in the Terrace Dining Room, the local house band performs from 8:30 pm until midnight. This band is joined by performers and floor shows. Most of the performers are local artists.
If you feel like dancing, check out the Club Hurricane Disco. The bar opens at 10:30 pm, and stays open until the last person leaves. It can get pretty loud and crowded in the disco, but it's always a fun time.
If the disco is too much for you, try the Piano Bar. It's not like any piano bar you've ever been to! You can select songs from the provided song books, or make requests. Be forewarned: The words might be changed to the songs, or you might be invited to perform a dance on top of the piano.
On Mondays and Tuesdays, you'll find Karaoke in the piano bar instead of piano player. I've never been too fond of Karaoke, so I always skipped the Piano Bar on those nights.
The Naked Truth About Hedonism II
Get the facts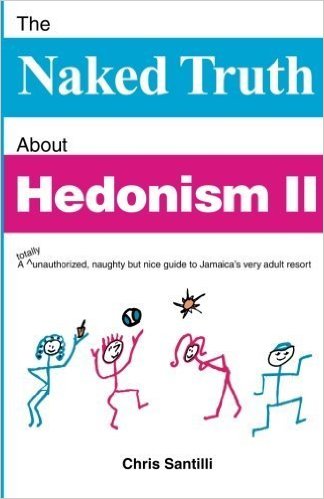 The Naked Truth About Hedonism II: A totally unauthorized, naughty but nice guide to Jamaica's very adult resort
This book gives all the details on what goes on at Hedonism II. I don't agree with everything the author writes, but for the most part, it's true. A great guide for someone who is considering a vacation at Hedo 2. Also, a lot of fun to read after you return!
Theme Nights at Hedonism II
You may have heard that the theme nights at Hedonism II are not to be missed. I have to agree: you never know what you are going to see at one of these!
You do not have to participate in any or all of these theme nights. Quite a few people do; especially repeat guests. For some of them, you will not be gained admittance to the party without the proper dress.
Note: Theme nights are subject to change without notice. Ask your travel agent before you go, so you'll have the correct attire for the parties