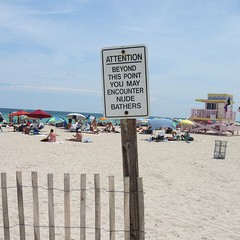 You may be wondering why anyone would want to go on a clothing optional vacation. The thought of naked people running around on the beach or playing volleyball may be foreign to you. But believe it or not, thousands of people world-wide like to vacation "au naturel", and this number is growing!
What is the attraction to visit a resort or beach where a suit is optional? Let me tell you why!
Photo by Phillip Peesar | Creative Commons Attribution
History of the Swimsuit
There is really no good reason to wear a swimsuit. In the "old days", people simply went skinny-dipping, or wore some type of cloth around their waists. Then, in the 1850s, it was decided that going "au naturel" was sinful, and bathing suits were invented. They consisted of black dresses with bloomers and stockings, and underclothing of some sort. People did not actually swim in these suits. Instead, they held onto ropes in the water, riding the waves.
In the early 1900s, the bathing suit evolved, and showed more skin. The suits were sleeveless; the length, shortened, and they were no longer black. Men wore tank type shirts, with shorts. As swimming became more popular, form-fitting suits became the rage, and in 1946, the bikini debuted.
#1 - No Tan Lines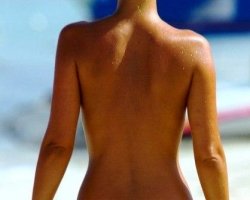 When you stay at a clothing optional or clothes-free vacation resort, you don't need a swimsuit on the beach or in the pool. You will get an all over, natural tan. Just slather on the sunscreen, and you're set!
Speaking of sunscreen, make certain you use the highest SPF that you can find. The "tender spots" that aren't used to so much sun will burn fairly easily, and you don't want to ruin your vacation with a sunburn!
I use Neutrogena Ultimate Sport Sunblock Spray. It is water resistant, so I don't have to reapply it very often. It tends to block the rays of the Caribbean Sun, giving me a golden tan rather than a burn.
#2 - No Sand In Your Swimsuit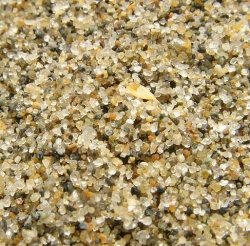 There's nothing worse than swimming in the ocean, and having sand collect in your suit! As you get out of the water, your suit clings to you, becomes clammy, and feels dirty on your skin. My first reaction is to find some clean water to rinse out my suit.
At a clothing-optional resort, you don't have to wear a swimsuit. Just emerge from the water, and let the sun & breeze dry your skin.
#3 - Vitamin D
One of the best sources of Vitamin D comes from the sun. When you're staying at a naturist resort, you'll have ample opportunity to soak up some of this amazing vitamin. It will enhance your calcium absorption; help you to sleep better, and ease any depression you might feel. And lastest research shows that it can decrease your chance of getting some types of cancer by up to 60 percent!
Yes, you can take a Vitamin D supplement, but it won't be as much fun!
#4 - Less Luggage
When you stay at a clothing optional resort, you won't need many clothes. Just pack a hat, a towel, some water shoes, sunglasses, and sunscreen in your carry-on, and you're set for the clothing optional pool or beach!
Since you haven't packed much luggage, you can save on baggage fees at the airport. You won't have to worry about your checked bags being crushed in the belly of the plane, and there will be more room in the overhead compartment. Think of the souvenirs or cocktails you can purchase with the extra money!
On top of that, you won't have to worry about losing your luggage, because you won't have any! Plus, when you return home, you don't have much laundry to catch up on. So you'll save both time and money when taking a clothing optional vacation.

NudistFriends.com - the largest nudist personals site!
#5 - It's Just More Fun!
Believe it or not, going to a clothing optional resort or beach is just more fun. You don't have to worry about what clothes to wear, or if your shoes match your dress. Instead, going "au naturel" is a way to get past the clothes and pretensions, and get to know people as they really are! It is a relaxing experience, and you'll find so many friendly, interesting people.
So try a clothing optional vacation just once. You'll find it to be a life-changing experience!