Clothing-optional resorts are pretty much the same as regular resorts. You will find water and land sports, restaurants, nightclubs, spas, and gyms. The only difference is that guests will not be wearing bathing suits on the beach.
Some of the resorts, such as Hidden Beach, Caliente Caribe, N Resort, and Club Orient, are clothes-free throughout. At these, all you need to pack is a towel & some flip-flops.. talk about packing light!
So why visit a clothing optional resort? People go for a number of reasons. Personally, I like them because 1) I don't like swimsuits and 2) being naked is pretty much an "equalizer". You are who you are.
I've visited quite a few clothing optional resorts over the years, in the United States, Mexico and Caribbean. Learn more about each of these below!
Couples Resorts of Jamaica

Couples is a chain of all-inclusive, couples-only resorts in Jamaica. There are 4 resorts, but only 3 of them have nude beaches.
Couples Negril has the smallest beach, but it is also the best beach of the three. It is located on Negril's Bloody Bay, on the west side of Jamaica. The nude beach area is off to one side, and has a hot tub and bar. There are also quite a few lounge chairs so you can get an au naturel tan.
Couples Sans Souci is the most luxurious of the three resorts as far as accommodations, food and the like. The nude section is off to one side of the resort, and quite a walk from the rest of the resort. The nude section has it's own nude Jacuzzi, nude pool, beach bar and grill, and a great view of the Caribbean sea.
Couples Tower Isle has a island just off shore from the resort where you can go nude. The island offers plunge pools and a bar. It is a bit too far to swim out (but it can be done). Instead, the resort supplies a boat to ferry you back and forth.
Hedonism II of Jamaica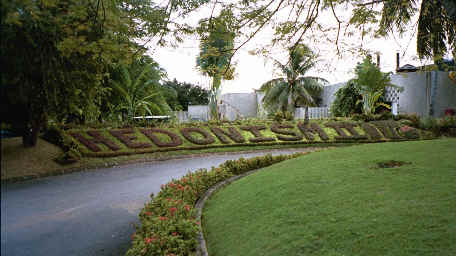 Photo by Fantastic Voyages
Hedonism II, an all-inclusive resort in Negril, Jamaica, is for adults - both couples and singles. It is unlike any resort you'll ever visit. Including Hedonism III, which closed a couple of years ago. You might have heard rumors about it, and some of the things you have heard might even be true. It's definitely a place for the very open-minded.
Hedonism II has both nude and "prude" sections. Prude basically means you have to keep your clothes on, and nude mean you can't wear anything but a towel. The nude section has a really long beach, a pool with swim-up bar, an enormous hot tub, and a grill. There is enough going on in the nude section that you could stay there the whole time, and never have to wear clothing. However, you'd miss out on the theme nights, the good restaurants, and the piano bar, so do bring some clothes if you visit.
Desire Resorts of Mexico
Desire Resorts are couples-only, all-inclusive resorts in Mexico. It has a really nice nude beach, with lounge chairs and day beds. In addition, it has a clothing-optional pool where you can play nude volleyball, and a rooftop Jacuzzi.
Desire is different than the Couples resorts of Jamaica, as it has a more "sexy" atmosphere like Hedonism II. It is not a traditional "clothing optional" or "nudist" resort, as some activities are a bit sexual oriented. For example, there are theme nights every evening, including Leather & Lingerie and sexy schoolgirl. While sexual conduct is not allowed in most public areas, you will probably encounter public displays of affection in the rooftop Jacuzzi.
Hidden Beach Resort, Mexico
Hidden Beach Resort is a clothes-free resort. This means you don't have to wear clothing anywhere in the resort. (You do have to always sit on a towel, however!). It is a good choice if you've never been to a clothes-free resort, as it's pretty laid back. No sexy theme nights and no pushy swinger-types.
This resort is a high-end hotel, especially as clothing optional resorts go. All the rooms are suites with ocean views. There is only one restaurant on the property, and you can wear clothing there if you like. Some people are just uncomfortable eating in the nude!
When you stay at this resort, you have privileges at the neighboring El Dorado resort. This gives you more dining & activity options, without costing any more money!
The downside of Hidden Beach is that the beach is on the rocky side, and there isn't much to it. If you're willing to spend most of your time at the swim-up bar in the pool, you should have a really good time!
Punta Serena Resort, Mexico
Punta Serena is a boutique property located high on a cliff overlooking the ocean. It has a clothing optional pool, hot tub, and beach. The beach is located near the bottom of the cliff, so plan on walking up & down a lot of stairs if you want to spend time at the beach!
This is a great resort if you want to just get away, enjoy some spa services, and relax. There aren't any theme nights. In fact, there aren't many activities at all! However, you can use the facilities at the nearby Blue Bay resort, where there are tennis courts, horseback riding, and more restaurants. You get two getaways for the price of one!
NudistFriends.com - the largest nudist personals site!
Club Orient, St. Martin
Orient Beach is one of the top 10 beaches in the Caribbean, so it just seems right that there is a clothes-free resort located here! Club Orient is a family resort, which is different than the majority of most clothing-optional hotels. If you have a problem being around children, then this is probably not a resort for you.
However, there are other hotels with access to Orient Beach, such as Esmeralda. You might want to try one of those if the family resort bothers you.
Club Orient offers an ideal setting. The rooms are all chalets, and come in a variety of sizes and setting. The mini-suites are half of chalets, but still have all the amenities of the larger rooms (kitchens, full bathrooms, patios, etc). They all face the ocean, but only the Beachfront Villas have direct beach access.