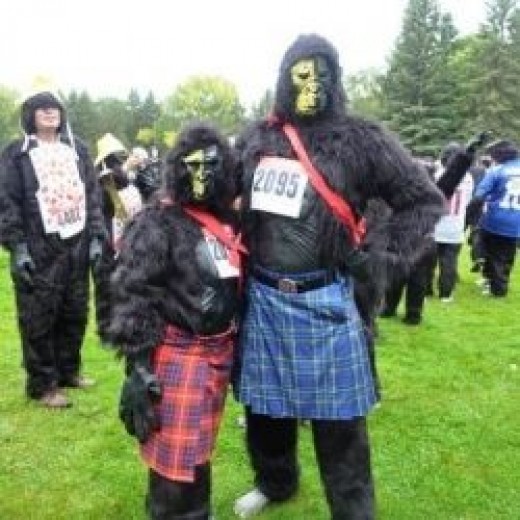 The 5k Charity Fun Run of Edmonton, Alberta, is not your average charity event. For this race, you'll don your favorite gorilla costume and traverse the 5k course route. It's great fun, and all to help the Mountain gorillas of Africa.
Held in September each year, hundreds of participants in Edmonton, Alberta, walk and run the course in their gorilla costumes, raising money for the Mountain Gorilla Conservation Fund. So don your costume, and join the fun!
Where is the Gorilla Run Held?
The Gorilla Run is held at the Kinsmen Clib, in Edmonton, Alberta. The address is:
9150 Walterdale Hill NW
Run, Gorilla. Run!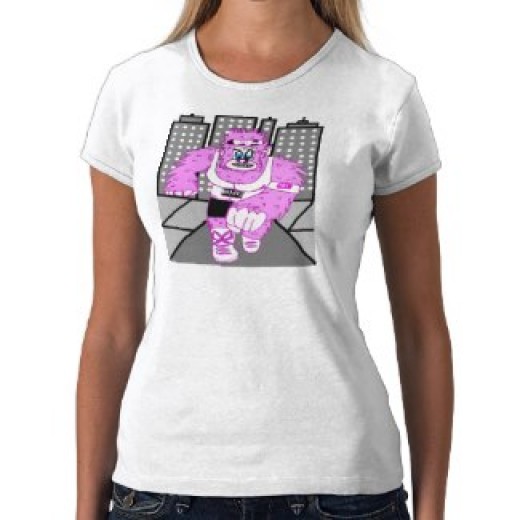 Run, gorilla. Run! Tshirt
Buy this on Zazzle: UncleSams | Zazzle.com
What Is The Gorilla Run?
The Gorilla Run is held each May in Edmonton, Alberta, Canada. All participants in the Run wear full gorilla costumes, complete with masks and hands. Creativity is encouraged, so you'll find gorillas in tutus, kilts and face paint, among other adornments.
The race begins at 10:00 am. The first to leave the starting line are the gorillas with wheels. These include people on bicycles or in wheelchairs. Motorized vehicles, skateboards, rollerblades and scooters are not permitted.
Just 5 minutes later, those on foot head out on the course. Runners, walkers, joggers and cyclists - each in gorilla costumes, hit the bike trails & city streets, all in the name of charity. Quite an amusing sight to see in Edmonton - or anywhere - on a September morning!
Registration & Fundraising Information
To become part of the Gorilla Run, you must first register and pay your entry fee. Your entry fee includes a gorilla costume, which you get to keep after the run is complete.
Gorilla suits can be picked up before the day of the run. It's best to try it on in advance, to make certain it fits. If you prefer, you can wear your own gorilla costume. However, keep in mind that in order to win any of the prizes, you must be wearing full gorilla gear at the end of the run.
The point of the Gorilla Run is to raise money for the Gorilla Fund. There are a number of incentives for donating money. For $50.00, you will receive an event t-shirt. Other donations will earn anything from a stuffed gorilla, to an insulated vest, to a drawing to win a bicycle!
Prizes
Most creative gorilla costume
Highest fundraiser gorilla
First male gorilla to finish
First female gorilla to finish
First child to finish the race by bicycle
Senior gorilla
Largest family group (with same last name, or corporate name)
The Mountain Gorilla Conservation Fund (MGCF)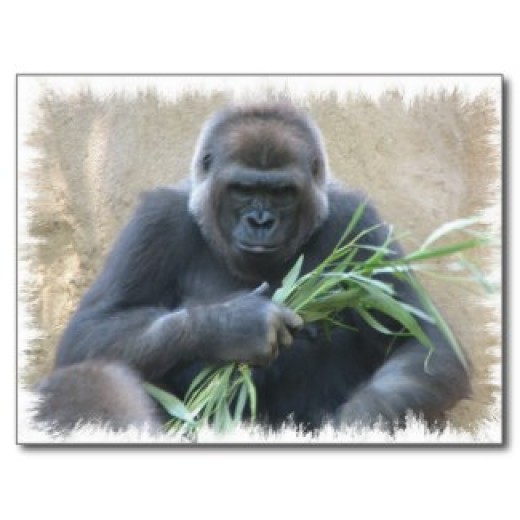 Silverback gorilla postcard
Buy this on Zazzle: Wildlifeanimals | Zazzle.com
The Mountain Gorilla Conservation Fund helps protect the endangered silverback mountain gorillas of Rwanda, Uganda and the Congo regions of Africa.
In 1987, only 248 mountain gorillas lived in the wild. Because of the efforts of people like Dr. Dian Fossey, Ruth Keesling, and the Mountain Gorilla Conservation Fund, there are now approximately 790 mountain gorillas in existence! The MGCF offers veterinary services, habitat protection, and public education, thus ensuring the gorilla population continues to grow.
Charity events such as the Edmonton Gorilla Race help raise money to expand these programs.
Need More Information?
Edmonton Gorilla Run
Official website for the Edmonton Gorilla Fun Run, the charity event benefiting the Silverback mountain gorillas of Africa
Mountain Gorilla Conservation Fund
The official website for the Mountain Gorilla Conservation Fund. Learn about their programs, and where your charity dollars are being spent