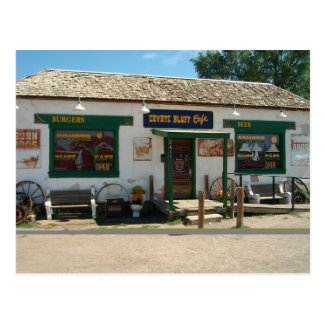 On a recent road trip from Texas to New Mexico, my brother and I decided to stop for lunch at our favorite hamburger joint. Located in Amarillo, Texas, just a few blocks south of I-40 / US 287, the Coyote Bluff Cafe is just a hop, skip and jump off the highway.
Coyote Bluff is not your typical hamburger restaurant. It's not fancy by any means, as it's located in a building that may have been an old house or convenience store. The white exterior is decorated with dark green window frames, old wagon wheels, signs and benches.
It has a tiny interior, with booths and tables that are usually full of diners eagerly awaiting their meals. The walls are covered in neon, posters, license plates and graffiti. Just about every space on the wall is covered with something!
The food is what draws the crowds.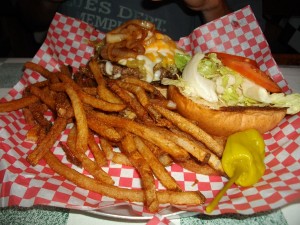 Hamburger basket at Coyote Bluff Cafe in Amarillo, Texas. Source: Fantastic Voyages
This cafe is known for it's 1/2 pound hamburgers with all the fixings you can imagine. I always choose the old-fashioned burger, with lettuce, tomato, pickles and grilled onions. My brother prefers the green chile cheeseburger, that has all of the above, plus cheese and green chiles.
There are a number of combinations from which to choose, including mushrooms & swiss cheese, guacamole & sour cream, and one that is even hotter than hell! You can also make your own burger by combining some of the offered ingredients.
In addition to burgers, the Coyote Bluff offers appetizers such as wings & cheese sticks. The menu also offers ribeye steaks, grilled chicken sandwiches and salads, and chicken tenders. A child's menu is available, in addition to wine & beer.
Location & Hours
Coyote Bluff is located at 2417 S. Grand Street in Amarillo, Texas. To get there, take 287 to the Grand Street exit, and go south a couple of blocks. It is located on the east side of the street.
Lunch is served from 11:00 a.m. until 2:30 p.m.
Dinner is from 5:00 p.m. until 10:00 p.m.
It is closed on Sundays and Mondays, so plan accordingly!