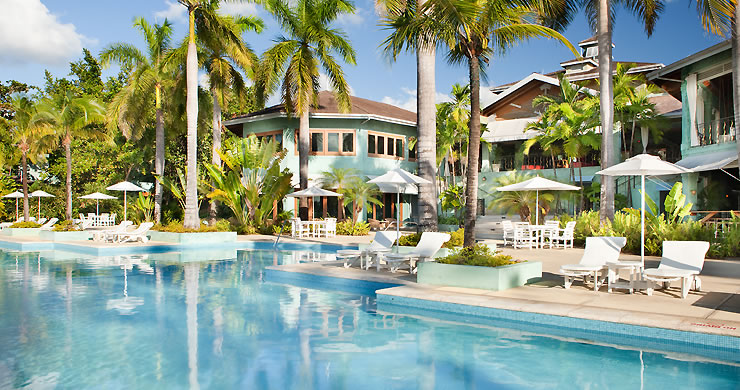 White sand beaches, clear blue waters, and the warm Caribbean sun! A variety of activities; fine dining, and no worries! This is Couples Negril - an all-inclusive vacation resort in Negril, Jamaica. A great vacation with an even better value for those who want a romantic, stress-free vacation in Jamaica.
Located on 18 acres of the purest white sand in Jamaica, Couples Negril is a beachfront playground - offering every activity you want and expect in a vacation. Enjoy Scuba diving, sailing, snorkeling and pool volleyball, plus complimentary tennis, unlimited golf, and even a fitness center! There is always something to do at Couples Negril.
Where is Couples Negril located?
Couples Negril is five miles from downtown Negril – a small fishing village – and fifty miles from Donald Sangster International Airport in Montego Bay (an one hour and a half drive). The resort sits on 18 acres of tropical grounds facing the crescent shaped Bloody Bay on 1,000 feet of white sand beach.
To get to Couples Negril, you'll take a transfer bus provided by the resort. It is also possible to take a transfer flight on a "puddle jumper" airplane for an additional cost. I've taken these several times, and it is a great way to see Jamaica from the air.
Added inclusions at Couples Negril
Getting more for your money
Couples Negril is an all-inclusive resort in Jamaica for couples only. All-inclusive means that everything in your vacation package is included in one price. You don't have to carry a purse or wallet with you; you don't have to wear a wrist band; and you don't have to charge things to your room. Just about everything you can eat, drink or do is included in the price.
Simply stated, the following things are included:
Roundtrip ground transfers between Montego Bay airport & Couples Negril
Room or Suite accommodations
All meals, snacks, and beverages
Daily activities and nightly entertainment
All tips, hotel taxes and gratuities
But there's more! Couples Negril is different than some of the other all-inclusive resorts, as it adds unique activities for it's guests. You don't have to spend extra money to go on excursions, and that is a definite plus! Here are the added inclusions at Couples Negril:
Shuttle to Margaritaville
Shopping Trips
Golf Greens Fees and Transfers
Sunset Catamaran Cruises
Scuba diving
Scuba diving resort course
Snorkeling trips
Water-Skiing
Shuttles to Popular Sunset Bar
Glass Bottom Boat rides
Fun Things To Do at Couples Negril
It is simply not possible to be bored at Couples Negril! There are plenty of fun things to do here to pass the time. And the best thing about them is that all of these activities are included in the price!
For land sports, you can play tennis on four courts, join a game of volleyball, play a game of table tennis, and even take a dance class.
If water sports are more your style, windsurfing, Hobie cat sailing, sunfish sailing, snorkeling, water-skiing, canoeing, catamaran rides, and glass bottom boat rides are all available.
Prefer to stay indoors? Couples Negril offers a game room complete with backgammon, cards, dominoes, board games, and billiards.
And if this isn't enough for you, the resort offers an air-conditioned fitness center. It is fully equipped with free weights, treadmills, Cybex, LifeCycle and Stairmaster equipment. Plus, you can enjoy a variety of classes, such as spinning, aerobics, yoga, meditation and Pilates.
Couples Negril has a truly fantastic beach! The beach is white sand, and runs the length of the resort. The staff rakes it every day to cut down on the seaweed and other debris. At the far end of the beach is a "clothing optional" section, where you can sunbathe "au naturel". It is separated from the main beach with small hedges and trees.
The Beach & Pools at Couples Negril
Couples Negril has a truly fantastic beach! The beach is white sand, and runs the length of the resort. The staff rakes it every day to cut down on the seaweed and other debris. At the far end of the beach is a clothing optional section, where you can sunbathe "au naturel". It is separated from the main beach with small hedges and trees.
There are two pools. The main pool is absolutely huge, and flows into a smaller pool with a swim-up bar. There is also a dive pool where you can learn to Scuba dive.
If you'd rather just relax in a Jacuzzi, there are four to choose from. Two are adjacent to the main pool, so you won't have to walk far to refill your drink at the bar!
Rooms & Suites At Couples Negril
Each of the 216 rooms and 18 suites room at Couples Negril offers everything you need for a comfortable and relaxing stay! There are 4 room categories: Deluxe Gardenview, Deluxe Oceanview, Deluxe Beachfront, in addition to 2 suite categories: Garden Suite and Beachfront Suite. All of the rooms and suites include:
King-size bed
Air conditioning and a ceiling fan
Private balcony or patio
Satellite flat screen television, CD player (bring your own music), and telephone
Coffee maker and stocked mini-bar
Safety deposit box
Iron & ironing board
Nightly turn-down service
To truly enjoy your stay at Couples Negril, invest in a Garden or Beachfront Suite! The Garden Suites are located on the end of each building, and have all of the above features of the rooms. A Beachfront Suite includes all the amenities of the Garden Suite, but a much better location. If you want to truly pamper yourself, the Beachfront Suite is the best way!
A Suite is a great way to start and end each day: on your private patio, watching the waves.
Dining & Restaurant Options
The food is really great at Couples Negril, and there is plenty of it! The best thing about an all-inclusive resort is that you can eat as much as you wish! Couples Negril has 5 unique restaurant choices:
The Cassava Terrace – for breakfast, lunch and dinner.
The Cassava Terrace is the main dining room area. A Continental Breakfast is available at 5:30 am for early risers. Full breakfast is available beginning at 7:30 am. Breakfast features fresh fruits, freshly baked bread, pastries, and made-to-order omelets.
At lunch, try a salad, sandwich or other light dishes. Dinner brings a selection of soups and salads, fresh fish & other entrees, and decadent desserts. Tip: If you want more than one entree or dessert, just let them know! You are not limited to one selection.
Beach Grill – for lunch
The beach grill offers grilled foods such as hamburgers and jerk, in addition to salads and Jamaican specialities. The Beach Grill is open from 12:30pm to 2:30pm and 11:00pm to 5:00am.
Heliconia – for dinner
Heliconia offers Mediterranean cuisine at night, under the stars. Enjoy pasta along with seafood, lamb, pork chops or beef loin, and follow it with a heavenly dessert! A really romantic way to enjoy your evening meal!
Lychee – for dinner
Lychee offers Asian food, including soups, salads, sushi, and Asian entrees. This is a semi-formal restaurant, although no jacket is required. It is open from 6:00 until 9:15 pm, and no reservations are required.
Otaheite – for dinner
Otaheite offers Caribbean cuisine, and is a semi-formal restaurant. Reservations are required, and you do have to dress up a bit. Suits are not required, but nice slacks are, in addition to closed-toes shoes. This is an excellent restaurant, and a must-try during your stay at Couples Negril.
Romantic Dinners
For an extra-special evening, you can dine on the beach under the stars. This does come with an additional charge, which is currently $170.00. You'll have a private waiter with your own table, Couples own private-label wine, and a three-course Caribbean dinner. I have not personally tried this, but it sounds heavenly!
In-Suite Dining
If you're staying in a Garden Suite or Beachfront Suite, you having meals delivered to your suite. A special menu is available for these meals, and you must order a day in advance. In-Suite Dining is available from 6:30 pm until 9:00 pm.
Unlimited Cocktails
All drinks – including alcoholic ones – are included in your package price. At least one bar is open most of the day, so you'll never go thirsty! The swim-up pool bar opens at 10:00 am for the early risers, and serves drinks until 6:00 pm. The beach bar begins serving at 11:00 am, and stays open until midnight.
There is a bar inside the Cassava Restaurant, and it is open during lunch and dinner hours. The Piano Bar opens for cocktails at 6 pm and does not close until the last couple retires.
Oasis Spa at Couples Negril
At Couples Negril, you can indulge in a variety of massages, revive with detoxifying seaweed warps, or soften your skin with moisture-rich body scrubs and poultices. Couples' spa exclusive treatments are offered in a variety of locations, including their organic therapy rooms, a thatched hut on the beach, or tucked away in the intimacy of the Tree House.
You can also enjoy the services of Couples Negril's salon, with manicures, pedicures, hair styling, hair conditioning, and waxing. Men can also be treated to hot towel shaves. These indulgences are great after a day at the beach, when you want to look & feel your best for the nighttime festivities!
Please note: Spa services are not included in your package price. An additional charge applies.
Weddings at Couples Negril
Think how romantic it would be to get married on a white sand beach in Jamaica. Beautiful blue water in the background, with an even bluer sky above. A wedding at Couples Negril is a great way to "tie the knot", then celebrate your honeymoon afterwards!
Couples Negril offers several wedding packages. The best thing about all of them is that you will have your own personal wedding planner who will handle all of the arrangements according to your specific instruction. Then, once you get to Couples Negril, you'll work with the on-property wedding planner and staff to make certain all goes according to your wishes.
The basic wedding package at Couples Negril is $250.00, and includes:
Bridal Bouquet and matching Groom's Boutonniere of purple or white Dendrobium Orchids
Sparkling Wine Toast, for up to 10 guests
A Wedding Cake decorated with a Dendrobium Orchid, for up to 10 guests
25 Minute Couples Massage
Two Couples Resorts Champagne Flutes
"Just Married" T-shirts for Bride and Groom
Personal Stateside Wedding Planner
On Property Wedding Coordinator
Wedding Officer
Marriage Certificate
Your Choice of Spectacular Wedding Locations on the Beach or in the Gardens
A number of other packages are available, and each can be personalized to suit your needs.
Romantic Settings For a Romantic Wedding
Honeymoons at Couples Negril
If you're getting married, and wish to honeymoon at a Caribbean resort, Couples Negril offers a romantic setting for your honeymoon The only requirements are to stay a minimum of 6 nights at the resort, and provide proof (marriage license) that you were married within the past 30 days.
The basic honeymoon package is free, as long as you meet the requirements above. It includes a complimentary bottle of sparkling wine, and a 25 minute couples massage at the Spa.
But don't stop there! Get the complete Honeymoon VIP treatment: for additional fee, you can add tropical flowers in your room; a private candle-lit dinner under the stars, and spa certificates for your choice of spa treatments.